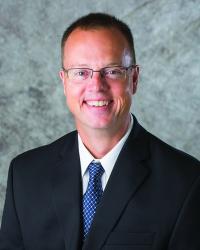 By: Matt Berry, CEO
History defines culture. Knowing our co-op's history is similar to knowing our country's history; it helps define how we act today, helps us better understand our mission and purpose. I hope you'll enjoy this brief summary of our first couple of years. I cannot imagine how difficult it must have been to build an electric cooperative….
The Ohio Farm Bureau (OFB) was instrumental in getting the electric cooperative started. OFB helped organize the first Board, and provided administrative, accounting and engineering support. Our original name was Farm Bureau Electric Co-op, District # 3, Inc. The name was changed that first night (March 17, 1936) to Western Farm Bureau Electric Co-op, Inc.
But it didn't take long for the Board to become dissatisfied with progress, and blame was placed on OFB. By October 1936 the Board was already discussing separating from OFB. The process, however, would take a couple of years.
The exact date isn't clear, but we split off from OFB around 1938-39. Part became Midwest Electric Cooperative (St. Marys). The Hardin County and eastern Allen/Auglaize portion left to become United Rural Electric Cooperative (Kenton; now named Mid-Ohio Energy Cooperative).
There was a fair amount of drama and tension between OFB and local co-op leaders. And there wasn't 100 percent agreement on the split locally. Tempers were evident in letters between the Mercer County Farm Bureau and the local electric co-op leaders, with the Mercer County Farm Bureau threatening the co-op that its local citizens and farmers would not take electricity from the co-op if it split from OFB.
This issue underscores the LOCAL, COMMUNITY CONTROL aspect of our nature. We wanted to control things locally, not through the OFB in Columbus.
Another aspect of our culture today can be found in our first set of Rules & Regulations, created mid-1936:
• Each Member has a responsibility to be informed about their cooperative, and involved in their cooperative
• The Co-op has a duty to be transparent with members regarding progress of the cooperative, financials, etc…. Communications.
• References to "each local community" being responsible for improving the cooperative. (Today the national electric cooperative slogan is "Built by the communities we serve.")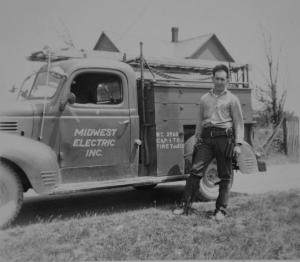 It appears that our first electric project went from E. Shelby Rd (east of St. Marys) north to Glynwood Rd, then east to Glynwood St. Patrick Church, and west to St. Marys River Road and north to Noble School. Today, Glynwood St. Patrick Church is still our longest continuous- served member.
Our first electric substation was built in 1937 on Clover Four Road, east of SR 66A, between St. Marys and New Bremen. It was only 300 kVa in size yet served hundreds of members over hundreds of miles of power line. For some perspective, an average home today could be served with a 15 kVa transformer; so that's equal to about 20 homes. But consider that a radio was the number one surveyed item that people wanted when they got electricity.
Our second substation was on CR 33A and Townline-Kossuth, consisting of 600 kVa in transformers to serve the entire Midwest Electric system load of 850 miles of line.
There was no Buckeye Power Supply Cooperative in those days (our power supplier today), so we were on our own to acquire power sources. Our supplier at the time was Central Ohio Light and Power (Findlay) and they served us from a coal power plant in Bluffton.
Member Services was at the heart and soul of the early cooperative, and remains so today:
In less than one year, February 1937, the board started the process of getting into the appliance business in order to help members once they had electricity. (Today, we provide energy efficiency advice and rebates for appliances, water heaters, and heating systems; along with energy audits.)

We held appliance and cooking demonstrations at our 1938 annual meeting.

Our first electric rates (Oct. 1937) already had a reference to "load control" for electric water heaters…" lower element controlled by a time switch limiting operation to a maximum of 16 hours use per day. Time switch furnished and maintained by the cooperative." (Today, more than half of our members participate in our peak load management program for water heaters, saving the cooperative hundreds of thousands of dollars annually.)

Water heater tank insulation approved by the cooperative.

Oct. 1937 – hired an electrician to help members with wiring.

In 1938 we created a loan program to help members finance wiring projects and the purchase of appliances.

Electric utilization tours were held throughout western Ohio to help farmers and homeowners learn about electricity and what it could do to alleviate "the drudgery of rural life."

Our first electric rates included a discount if the member had an electric water heater. Additional discount with electric range.
All of this is relevant because it's very similar to who we are today and our commitment to helping members in their use of our service. It's all about Co-op Culture, helping members.
Using the assembly-line theory of Henry Ford, crews of specialists set about electrifying the countryside in west central Ohio. One crew would stake out the line, while another would clear the right of way of trees and other obstacles. Yet another group would drop off poles and hardware. Another crew would dig holes while yet another would affix the hardware. Another group would use a 16 to 18-foot tall "pike" pole to brace against the main pole when setting it in the hole. Then more men would set the poles, while a last crew would string the Copperweld conductors. Strong backs were easy to find with so many out of work during the depression.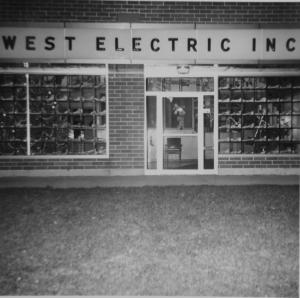 Our first office was in downtown Lima. A year later, in mid-1937, we moved to downtown St. Marys as we learned it would be a central location for our electric projects. We bounced around a few different spots in St. Marys before settling at our current home in the 1960s.

For the first year, we had only two employees, Carl Presar (general manager) and Isabelle Goodwin. Contractors took care of the line construction. It appears that our first lineman was Prentiss Tomlinson, hired August 1938. 

Another co-op principle, Cooperation Among Cooperatives, started taking shape by 1938 as Ohio's fledgling electric cooperatives started meeting together to discuss common issues such as taxation and territory encroachment by the larger utilities gobbling up the most lucrative service areas close to towns. By 1939, statewide training classes were being held for electric cooperative bookkeepers.

By 1939, the Board recognized that a minimum service charge would be necessary; a monthly fixed charge to help pay the cooperative's fixed costs.

Being good stewards and upholding good governance practices were top of the mind for the early trustees. An August 1939 Midwest Electric board meeting entry: "A general discussion was had of…our duties…in the conduct of the office which we have been chosen by the people to fulfill. We….discussed our various faults and mistakes freely and frankly…that we emerge with a better understanding, a more appreciative conception of the obligations which we owe to each other and to all persons whom we may be obliged to serve." They then decided to bring in outside experts for guidance. (Remember, they were "just" local citizens, farmers and everyday people; and they were trying to create something that nobody had any knowledge or experience in.)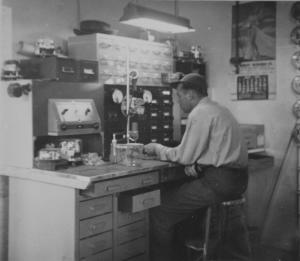 By late 1939, electric construction and activity was growing rapidly. New linemen and other employees were being hired. More service trucks were being bought. The board and employees had their hands full trying to keep up. I'd say they did a whale of a job. Hats off to them. Did they have any idea what a phenomenal job they did and the results it would have?
This project will be good for culture building with current employees and board directors. And it will be helpful to new employees and directors in the future. If you or someone in your family has information to add, please reach out to me, your CEO Matt Berry, at 1-800-962-3830 or mberry@midwestrec.com.
Thank you for being a member of your co-op!